Past Events
December 2015
RED VEIN ARMY, in partnership with RVA Krampusnacht presents Krampus Kinder Nacht! We'll be taking toy donations for Scares That Care starting Monday, November 30th and lasting until Friday, December 11th. You can drop off the toys at the following dates/locations (click the links for more details):
Monday, November 30th - Thursday, December 3rd @ Portrait House
Friday, December 4th... Yuletide Monsters 2: A Krampus Art Show @ Gallery5, 5pm-midnight
Saturday, December 5th... 3rd Annual Krampusnacht @ Portrait House, 6pm-10pm
Sunday, December 6th... RVA Horror Book Club reads "Krampus: The Shadow of Saint Nicholas" @ Fat Dragon, 5pm-7pm
Monday, December 7th - Friday, December 11th @ Strangeways Brewing
Friday, December 11th... RVA Krampus Social @ Strangeways Brewing, 6pm-9pm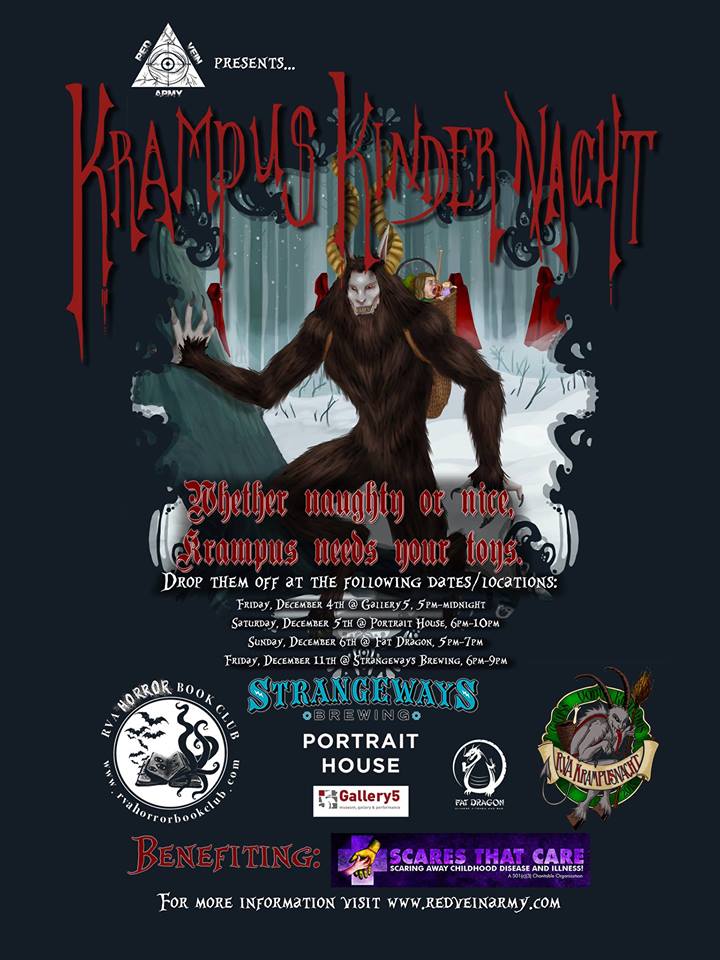 October 2015
RED VEIN ARMY will once again hit the road for the 2015 ScreamFreak.com Tour! At every haunt we visit we'll be providing line entertainment as you wait to enter the attractions. We're also excited to be invited to design, build, and run a small haunted attraction for Lucky 13 Tattoo in Richmond, Virginia on Thursday, October 29th. This will be at the Richmond Voodoo Festival at The Broadberry. The ScreamFreak.com Tour is also brought to you in part by Rest in Pieces, Richmond's only oddity shop.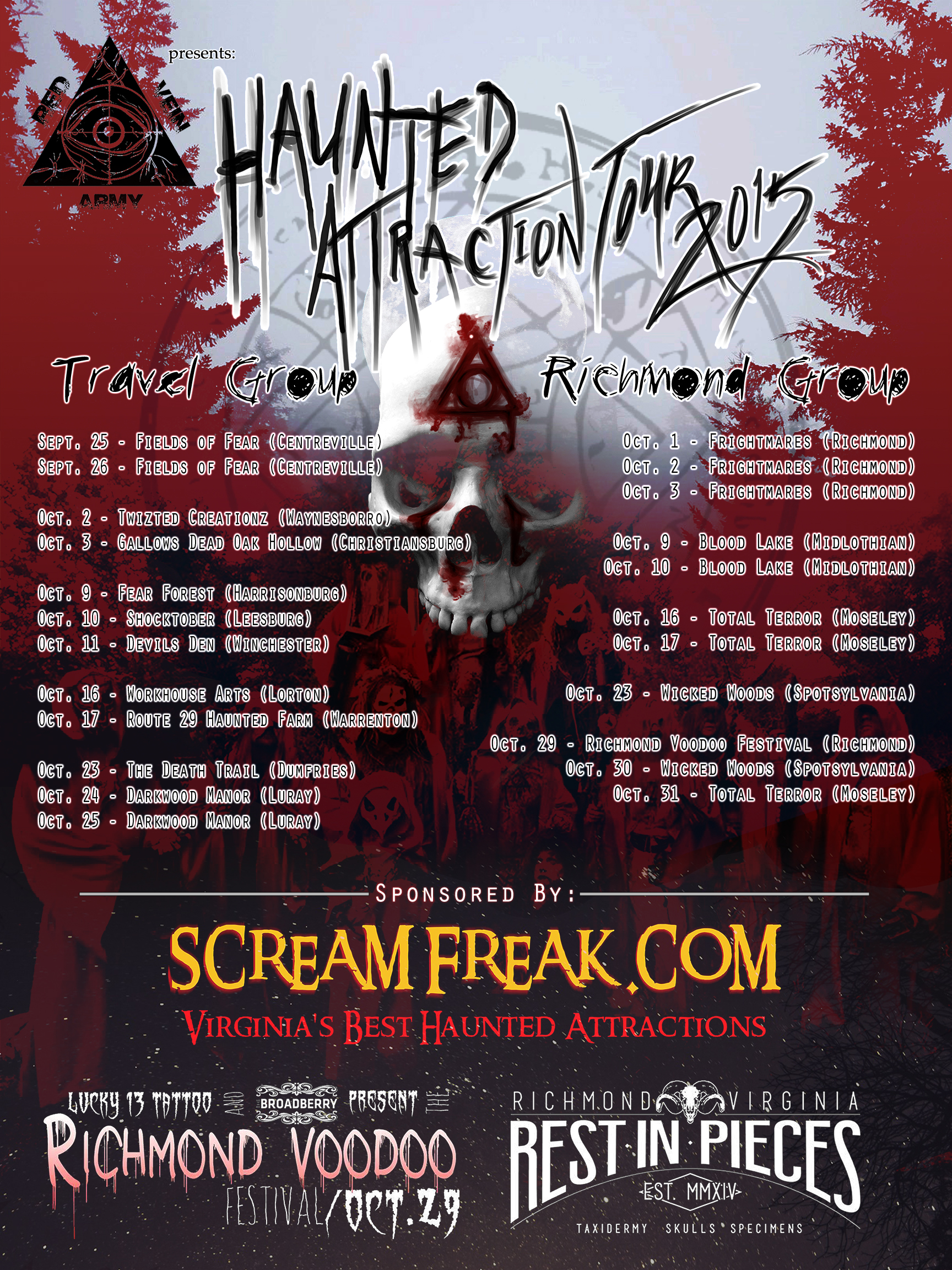 August 2015
RED VEIN ARMY and host, Mr. Scream Freak from ScreamFreak.com, invite you to join us at STRANGEWAYS BREWING on Friday, August 14th for a discussion of horror and spine-tingling fear as we introduce seven of the regions most thrilling writers.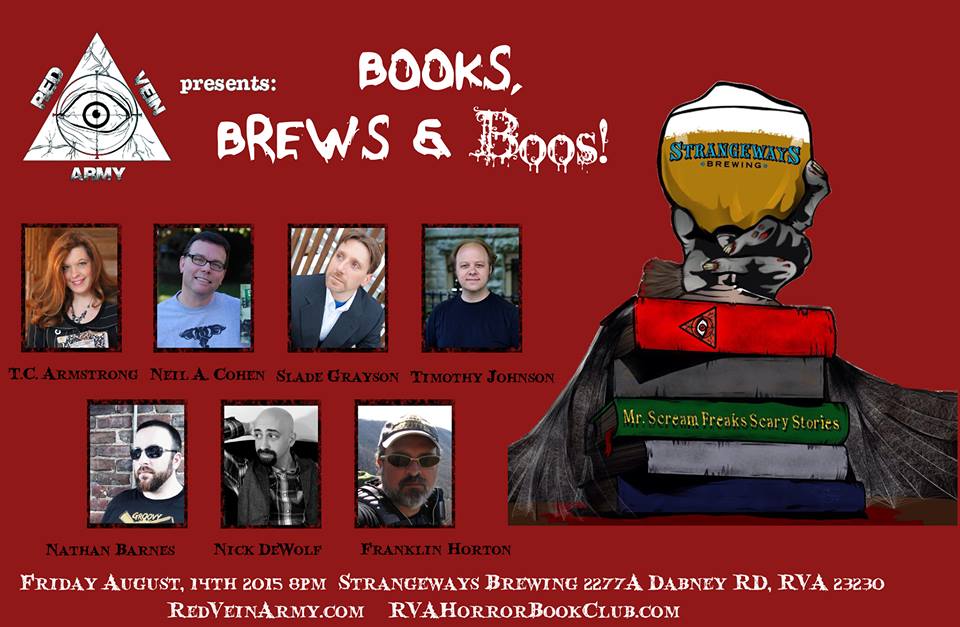 July 2015
In partnership with the amazing event that is Scares That Care and our role in promoting Virginia Haunted Attractions with ScreamFreak.com, we're excited to announce we'll be operating a haunted attraction July 24th-26th in Williamsburg. RED VEIN ARMY presents... the ScreamFreak.com HOUSE OF HORRORS! All donations raised by the haunted attraction will go towards helping the charitable foundation.

June 2015
RED VEIN ARMY will once again be helping with the organization of Virginia Haunt Fest June 5th-6th in Ashland, Virginia.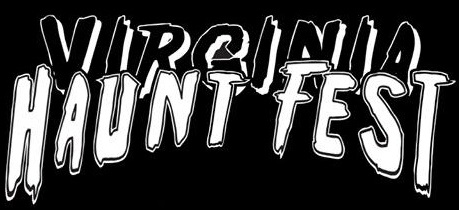 April 2015
Look for members of RED VEIN ARMY at Ravencon in Richmond, Virginia.