Past Events
December 2016
RED VEIN ARMY, in partnership with RVA Krampusnacht, presents Krampus Kinder Nacht - Year 2! For the second holiday season in a row, we'll be taking toy donations for Scares That Care starting Tuesday, November 22nd at Strangeways Brewing and lasting until Saturday, December 3rd at Citizen Burger for the 4th annual RVA Krampusnacht Walk. Please make sure the toys are NEW and UNWRAPPED. Look for our Krampus-themed toy box! You can drop off the toys at the following dates/locations...
Tuesday, November 22nd - Thursday, December 1st @ Strangeways Brewing
Friday, December 2nd @ Gallery5... 6pm-10pm
Saturday, December 3rd @ RVA Horror Book Club #50: The Spirit of Krampus... 11am-2pm
Saturday, December 3rd @ Citizen Burger... 2pm-8pm
For more information on RVA Krampusnacht, please visit the event page at 2016 RVA Krampusnacht Event Schedule.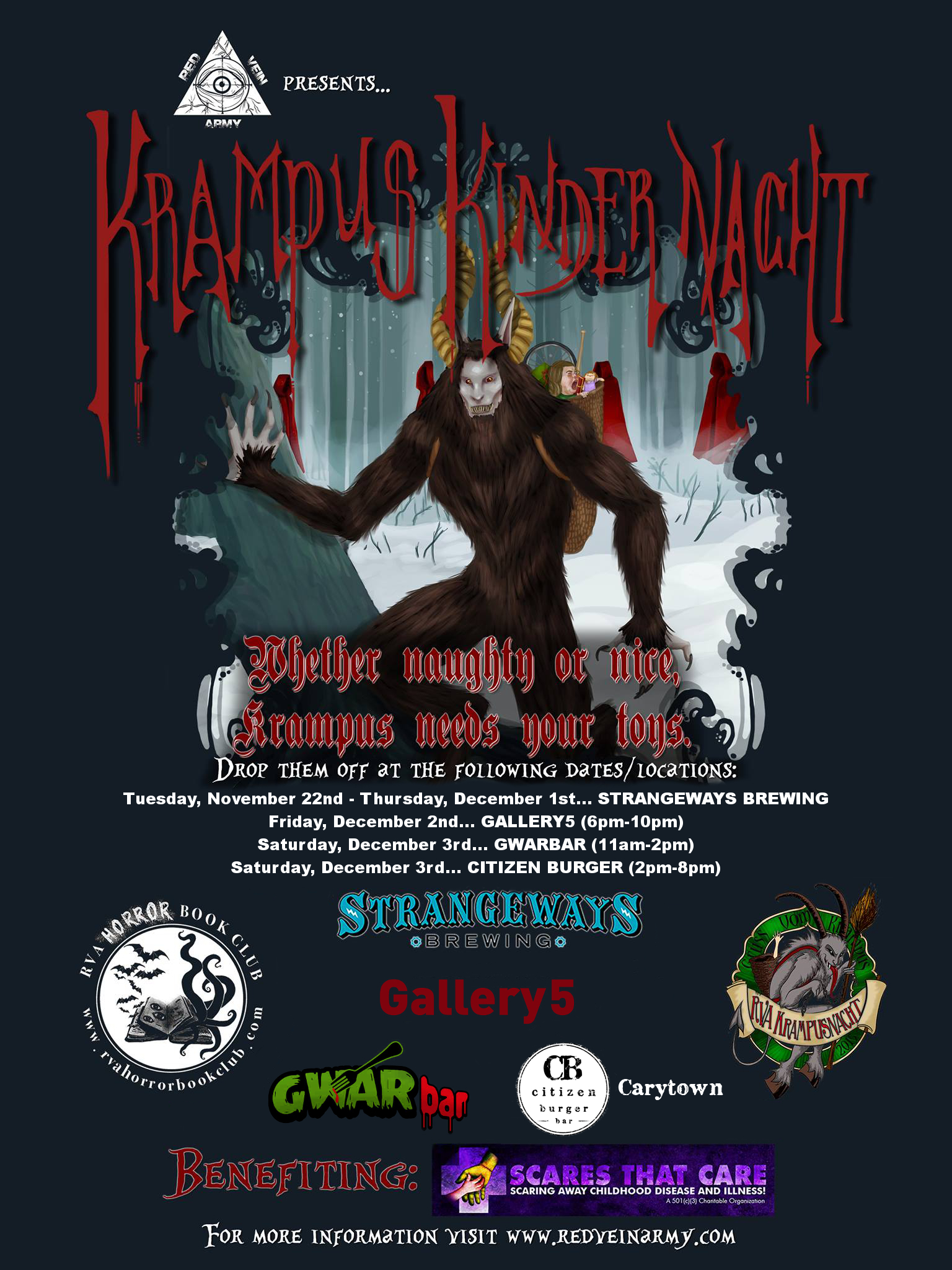 October 2016
RED VEIN ARMY is incredibly excited to announce our BRAND NEW project for 2016. A project that has been 6 years in the making. A project that we've sacrificed so much to make happen. This October we'll be opening RED VEIN Haunted House at Hanover Vegetable Farm! Visit redveinhaunt.com for more information.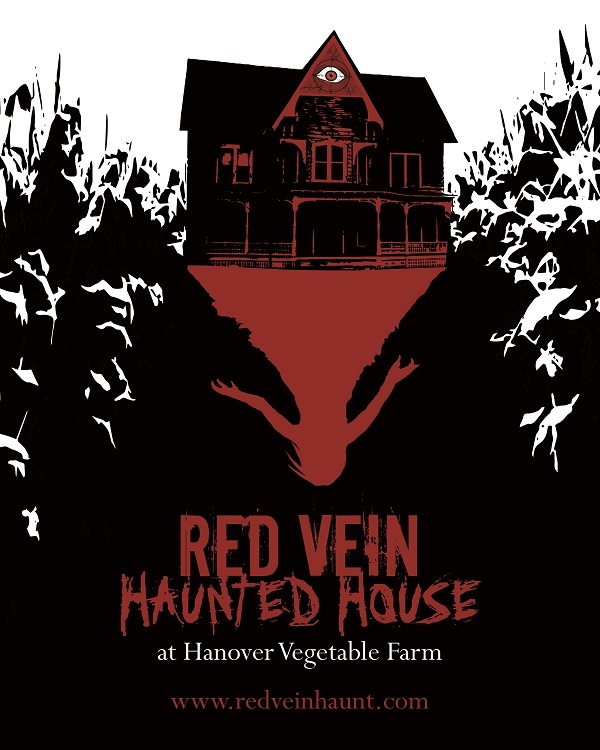 September 2016
Books, Brews and Boos returns to Strangeways Brewing for another evening of spine-tingling horror with some of the regions most chilling authors and publishers. Join us on Friday, September 23rd from 8-10pm as RED VEIN ARMY hosts a panel discussion with our guests. Play trivia for prizes, pick up autographed books, meet some scary characters, and of course, drink some deliciously strange beer. The event is FREE to attend.
Head to our Facebook event page for more information: RED VEIN ARMY presents: Books, Brews, & Boos Part II

July 2016
For the second year in a row, RED VEIN ARMY and Scares That Care have partnered to bring you tons of screams and a haunted good time all weekend long! Our brand new, totally redesigned haunted attraction will once again be located on the second floor in conference rooms H and 15. The haunt will be open all 3 days of Scares That Care Weekend and is FREE for all Scares That Care attendees, but a suggested (not required) donation of $5 is welcomed. Last year we were able to raise $1,500 towards the charity!
Scares That Care is an approved 501(c)(3) who fights the REAL MONSTERS of childhood illness, burns, and breast cancer by helping families experiencing these extraordinary hardships cope with the financial burden. Founded in 2006, "Scares That Care!" to date has raised and donated over $100,000 to organizations that treat sick children and families in need.
Head to our Facebook event page for more information: Portal to Providence Haunted Attraction
Big thanks to our sticker sponsor for the weekend, Humper Bumper!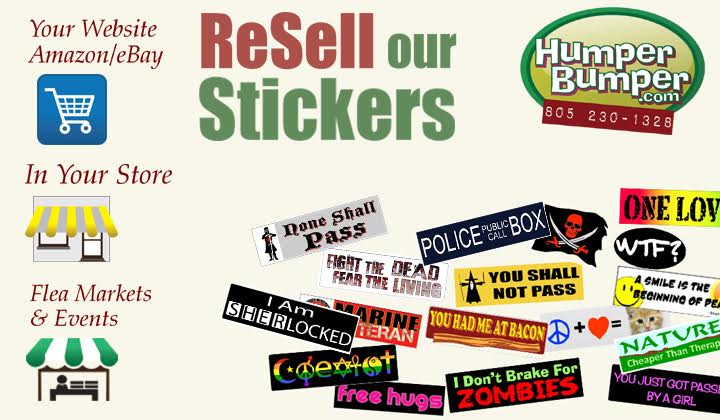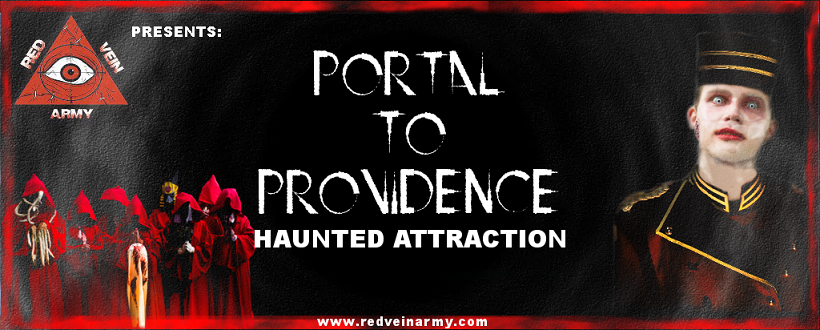 June 2016
Strangeways Brewing, in association with RED VEIN ARMY and Aisthesis Productions, brings you Horror Movie Night! We'll be showing Army of Darkness in an outdoor theatre setting, with interactive creatures and other fun activities throughout the night, all while enjoying your favorite beverage. Horror Movie Night will take place Friday, June 24th from 8pm-midnight. The movie will start around 9pm! RED VEIN ARMY will also be collecting donations for Scares That Care at our table.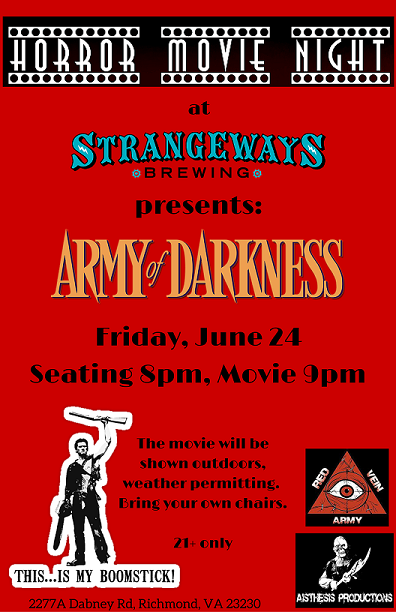 RED VEIN ARMY will be hanging out with fellow Virginia haunters from around the Commonwealth at the annual Virginia Haunt Fest on Friday, June 3rd through Saturday, June 4th in Greenwood, Virginia. Virginia Haunt Fest is for the haunt enthusiast on any level (home haunters and professional haunted attraction owners and actors). More information can be found on the Facebook event page.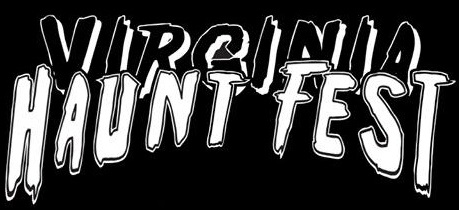 May 2016
Join RED VEIN ARMY and RVA Horror Book Club for an all day reading party like no other! Pass through the doors of the Richmond Public Library Westover Hills Branch and enter into a public blanket fort that is sure to remind you of favorite childhood memories! We invite children AND adults to join us for story time with costumed characters and enjoy both memorable classic tales and scary stories that will have you grabbing a teddy bear and a flashlight. And since this Official Readathon Reading Party is hosted by RED VEIN ARMY, you're sure to experience a few other scares throughout the day. For more information, visit our Facebook event page.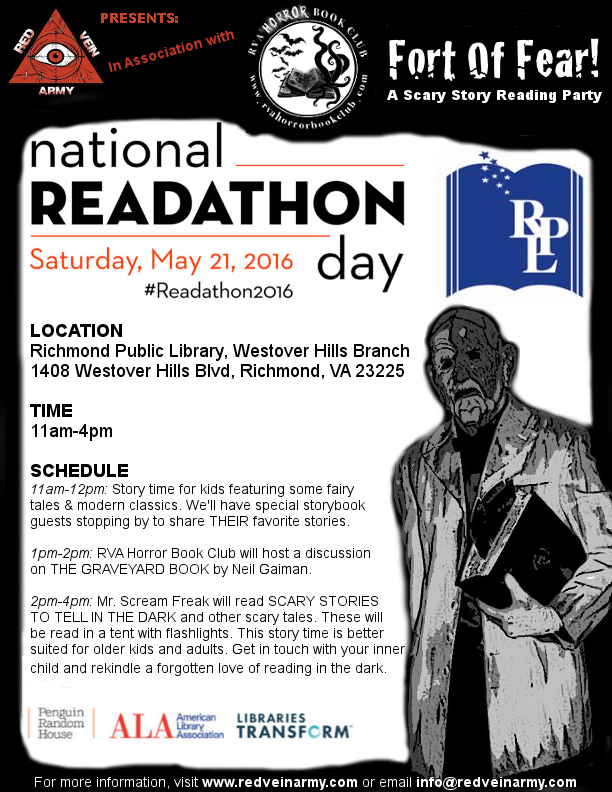 April 2016
Join RED VEIN ARMY and Strangeways Brewing for SPRING-O-WEEN... a Halfway to Halloween celebration! Throughout the weekend, RED VEIN ARMY will be running an Escape Room like no other. Your group of 4 people will be given 5 minutes to help Alice find the key to the rabbit hole. Do you have the smarts and cunning to figure out the puzzles throughout the room? And with it being Halfway to Halloween, you never know what surprises and scares await around the corner.
Spring-O-Ween will be at Strangeways Brewery (2277 Dabney Road, Richmond, VA 23230) and run Friday, April 29th from 8pm-midnight and Saturday, April 30th from 6pm-midnight. The weekend will also consist of live music by The Embalmers, as well as prizes for costumes, and much more!
The Escape Room will be located in the back tasting room space, next to all the brewing equipment and barrels. Tickets are $5 per person. Groups of 4 only. Reserve your spot in the Escape Room TODAY!
ESCAPE ROOM TICKETS <--- click here
FACEBOOK EVENT <--- more information

February 2016
Women in Horror Month (WiHM) is an international, grassroots initiative, which encourages supporters to learn about and showcase the underrepresented work of women in the horror industries. Whether they are on the screen, behind the scenes, or contributing in their other various artistic ways, it is clear that women love, appreciate, and contribute to the horror genre.
This year RED VEIN ARMY is participating in the 7th annual WiHM celebration by bringing attention to many of the women within the Richmond, Virginia community that have excelled at their particular creepy horror-centric art. Each week we will highlight a different creative outlet and it's marvelously macabre visionary. We'll introduce you to a horror writer, an illustrator, a burlesque producer, a local business owner, and even a few of our very own haunt designers and actors.

Friday, February 5th - Deanna Danger
Friday, February 12th - Querus Abuttu
Friday, February 19th - Abigail Larson
Friday, February 26th - Alaina Gearhart Monday, February 29th - Women of Red Vein
Interviewed by: Kitty Barnes