Current Events
April 2018
RED VEIN is back with the 3rd annual halfway to Halloween celebration... Spring-o-Ween! This time we're bringing it to RED VEIN Haunted House's host location... Hanover Vegetable Farm! On Saturday, April 28th from noon-8pm, join us as we'll be getting into the spirit of the Halloween season! There will be many events throughout the day. We'll debut our brand new 3 minute escape room, have a spooky photobooth, costume contests with prizes, and LIVE music from The Embalmers! And it wouldn't be a RED VEIN event without scary creatures in red cloaks roaming about. More events to be announced! As dusk creeps up, we'll close out Spring-o-Ween by welcoming in Walpurgisnacht with a bonfire and dancing... part of German folklore that translates to "Witches Night." Truly letting us know that Halloween is only 6 months away!!
For more information, please visit the event page at Spring-o-Ween: A Halfway to Halloween Event.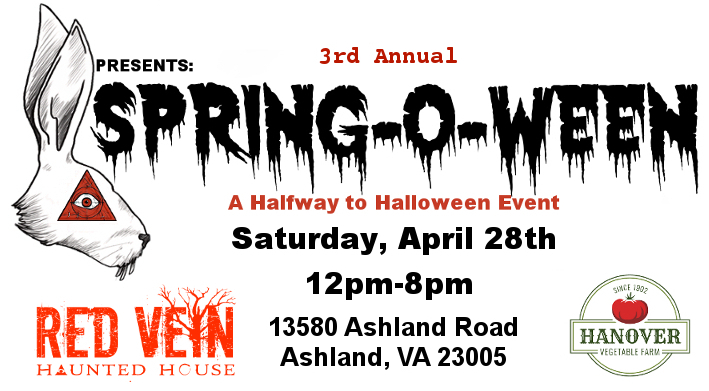 February 2018
Want to celebrate those witchy women in your life? February is Women in Horror Month and RED VEIN is returning to Blue Bee Cider for another special celebration! Make plans to come out Sunday, February 25th from 2-4pm and celebrate Wicked Women of Richmond! This event is free for all to attend. We've once again partnered with gals from the foul-mouthed comedic podcast, Mouthy Broadcast, to bring you an informative and entertaining live recording with a panel of creeptastic local ladies. Find out what makes this city a bubbling cauldron of horror goodness! Of course, it wouldn't be a RED VEIN event without frights…. as you sip your cider within the walls of Blue Bee's beautiful and historic Scott's Addition location, hold tight to your glass and watch for those red cloaked individuals or other creatures from the depths of RED VEIN Haunted House!
For more information on the live podcast, please visit the event page at Wicked Women of Richmond.